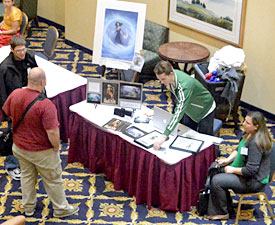 The Artists' Alley is a section of tables in the halls at LTUE designed for artists to use to show off and sell their art. Come talk to artists and see them as they do their work! Artists participating in the alley will be working on their art while at the tables. Different artists will be present at different times, so be sure to check out the Artists' Alley throughout LTUE!
The Artists' Alley Rules
Slots in the Artists' Alley are in 2-hour blocks and cost $5 per block. This gives you a full table in the hallway to sell and work on your art for those 2 hours.
There are 4 slots per block and 5 blocks per day.
By signing up for the Artists' Alley you agree to work on some aspect of your art while at the table.
If you have any questions or specific requests, email them to contact@ltue.net.