Today's featured guest post comes from bestselling fantasy author L.E. Modesitt Jr. A longstanding and active participant in LTUE, Modesitt writes huge, intricate, and detailed novels spanning sprawling worlds. If anyone knows the merits of good information, it's him.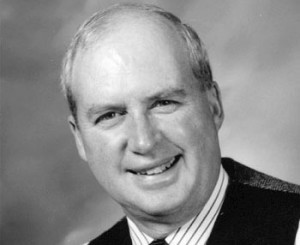 If you're interested in writing, particularly fantasy and science fiction, Life, The Universe, and Everything (LTUE), the Provo literary symposium now held every year in mid-February, is an underrated, often overlooked, conference that provides a wealth of insight and information about the field. Just listing the noted authors, editors, and even publishers who have attended LTUE and shared their expertise would take a good page single-spaced.
Equally important is the fact that LTUE is not only informative, but fun. When Toni Weisskopf, a noted editor and the publisher of Baen Books, appeared several years ago she gave an analysis of what authors needed to do by providing a comparative analogy to country star Jimmy Buffet's song "Wasting Away in Margaritaville," a talk that was not only entertaining but memorable. And for those of you who don't follow country music, the song was a 1977 CMAA nominee for the best single of the year.
There was also the time when two New York Times bestselling authors had a literary tiff over the question of how much technical detail was sufficient and how much was excessive, with one of the authors suggesting that the other's work verged on techno-porn (and yes, I was the guilty party), but I did feel that the other author occasionally got carried away with his admittedly brilliant, excellent, and detailed descriptions of future technology.
I was also guilty of giving a Guest of Honor talk ["Beauty is NOT in the Eye of the Beholder'] that took dead aim at personal opinion and cultural relativism, suggesting that if we only had the tools, we could determine "beauty" objectively. Whether or not people would accept such objectivity is another question, but over the last several years, studies across numerous cultures have determined that perceptions of physical human beauty do in fact fall within certain definable parameters, and mathematicians and scientists have talked about beautiful solutions for decades, if not centuries.
If you listen, you can also hear fascinating stories, such as the role accounting had in creating monster hunters, or how a Mad Magazine character turned a Naval officer into a pilot in the middle of a war that led to his becoming a science fiction author, or how a high paid high-tech salesman ended up as a science fiction graphic novelist…
Where else can you find panels on how to write military science fiction accurately where the panelists are either military historians or former or present military personnel who are also successful writers? Or panels that span all the aspects of worldbuilding, from geology and ecology to transportation and economic and money systems? There have even been panels on how much romance is enough [not quite titled that bluntly], in which candid opinions have been vociferously, but not rancorously, expressed.
And of course, on Friday nights, there is the mass signing, where every published author attending can sign his or her books, and attending authors can listen to praise and, occasionally, explicit critiques or plaintive wishes that the author had written another book about the reader's most favorite character.
Most of all, there are the people. As someone who was first published a long time ago, I've been to conventions all over the United States, and I've seldom found a convention/symposium that packs more information and more friendliness into its three days.