Welcome to the LTUE Blog! With the advent of LTUE within the next two weeks, we are beginning to feature guest posts on our site. Hear from the experts themselves about science fiction and fantasy, and get a taste of what you'll experience at the symposium.
Today's featured post comes from best-selling author Orson Scott Card, who has long been a participant at LTUE and a builder of creative communities around the world.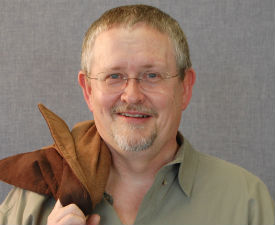 Over the years I've watched most science fiction conventions turn from real discussions of books and films and television shows into fannish celebrations of (mostly bad) movies.  I have no objection to all the fun … but where can I go for real discussions with thoughtful people and an audience that actually cares about what's going on in the literature?
Life, the Universe, and Everything, that's where.  From the beginning LTUE established and continues to keep its commitment to figuring out just what sci-fi and fantasy are FOR and how to do them better.  Also, there's this little thing about wanting to understand why so many LDS writers have done well in the genre.
Thanks to all my friends who work so hard to keep this conference going year after year. LTUE thrives on a supportive, participating community coming together and, for a modest fee, creating this most intellectually exciting event anew.
— Orson Scott Card